Community
The NFL Foundation funds and supports league-wide initiatives aimed at making a big difference in communities across the nation.
NFL PLAY 60

NFL PLAY 60 is the League's national youth health and wellness campaign to encourage kids to get active for at least 60 minutes a day. Since PLAY 60 launched in 2007, the NFL has committed more than $352 million to youth health and fitness through PLAY 60 programming, grants and media time for public service announcements.
To help as many kids as possible through NFL PLAY 60, the NFL Foundation provides grants to its 32 clubs to support activities in their communities that help kids get active. Join the movement here.
CRUCIAL CATCH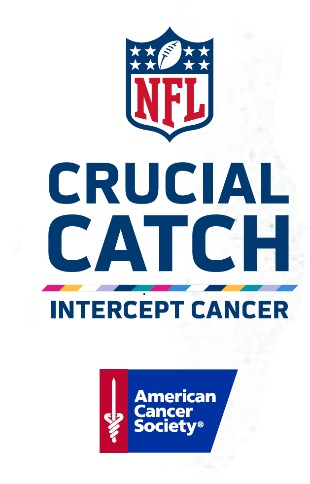 The NFL, its clubs, players, the NFL Players Association and the American Cancer Society are committed to the fight against cancer. Crucial Catch expands the impact of the NFL's work around breast cancer to address multiple types of cancer through early detection and risk reduction. Since 2009, the first year of the NFL's Crucial Catch campaign, the league's work has raised more than $19 million for the American Cancer Society.
While all teams will support the overall league message of early detection and risk reduction, each team has elected to support either a specific cancer or multiple cancers for its Crucial Catch game. Much of the apparel worn at games by players and coaches, along with brand new Crucial Catch game items, will be auctioned off at NFL Auction, with proceeds benefiting the American Cancer Society's Community Health Advocates implementing Nationwide Grants for Empowerment and Equity (CHANGE) program.
Additionally, the NFL Foundation provides grants to its 32 clubs to support activities in their communities to help in the fight against cancer. Learn more about Crucial Catch.
SALUTE TO SERVICE
Salute to Service is a year-round effort to honor, empower and connect our nation's service members, veterans and their families. It is grounded in deep partnerships with nonprofits and organizations that support the military community in the United States and across the world.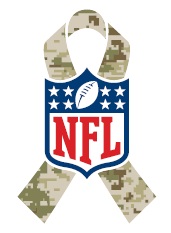 Since 2011, the NFL has raised more than $26 million for its nonprofit military partners—the Pat Tillman Foundation, TAPS, USO, Wounded Warrior Project and the Bob Woodruff Foundation.
The NFL Foundation provides its 32 clubs with grant funds to fund programs and provide resources that positively impact active duty and veteran military members and their families. Funds are raised through two primary channels: NFL Auction and the sale of Salute to Service identified merchandise at retail. Learn more about Salute to Service.
SOCIAL JUSTICE
The NFL, its players and teams are committed to improving their communities. We recognize our joint ability to effect positive, constructive and meaningful change in our country. We also recognize that such change requires committed, sustained, thoughtful and strategic engagement. Together with Players Coalition, the league and its clubs are supporting organizations across the country who are increasing access to opportunity for underserved communities, with a particular focus on:
· Education and Economic Advancement
· Police and Community Relations
· Criminal Justice Reform
In addition to the players' and teams' ongoing work, the league also created a committee on Social Justice, which includes owners Michael Bidwill, Arthur Blank, Jimmy Haslam, Shad Khan and Stephen Ross, and players Kelvin Beachum, Anquan Boldin, Josh McCown, Josh Norman and Aeneas Williams. And, together, the NFL Foundation and Players Coalition will fund millions of dollars in grants to organizations that focus on issues surrounding social justice nationwide.
WALTER PAYTON NFL MAN OF THE YEAR AWARD
Considered one of the League's most prestigious honors, the Walter Payton NFL Man of the Year Award Presented by Nationwide recognizes an NFL player for outstanding community service activities off the field, as well as excellence on the field. First established in 1970, the national award was renamed in 1999 after the late Hall of Fame Chicago Bears running back Walter Payton.

New this year, all 32 team nominees were highlighted as finalists and recognized for their important work during the weekend leading up to Super Bowl LIII. Five hundred thousand dollars was donated in the name of the 2018 winner—$250,000 of which was donated in his name to expand Character Playbook, the NFL and United Way's digital character education program. An additional donation of $250,000 was donated to the charity of his choice. All other 31 team nominees received a donation of $50,000 in their name to expand Character Playbook, and an additional donation of up to $50,000 to their charity of choice. All donations are courtesy of the NFL Foundation, Nationwide and United Way Worldwide.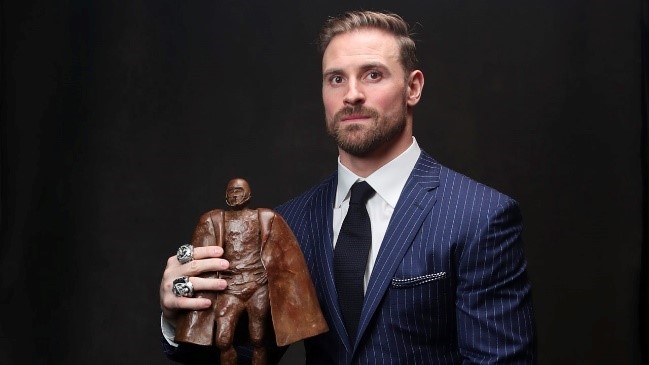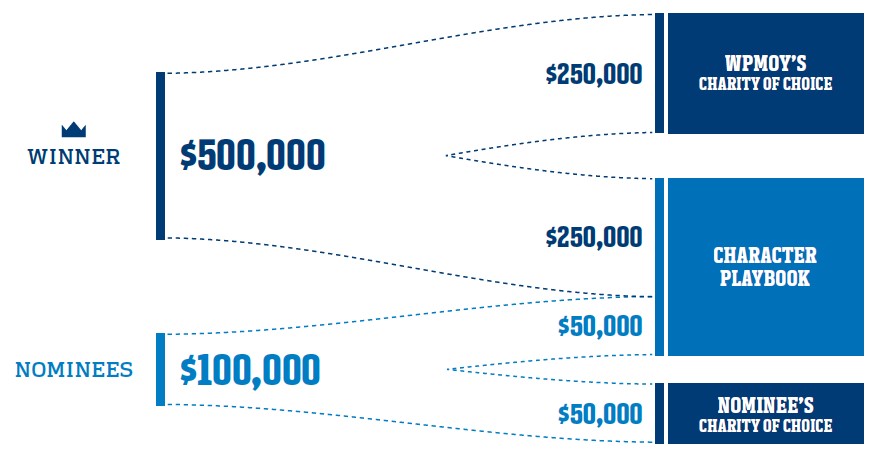 *Chris Long of the Philadelphia Eagles (left) won the award in 2018. He was named the 2018 Walter Payton NFL Man of the Year Presented by Nationwide for his tireless dedication to making a difference in the communities in which he has played in throughout his 11-year NFL career.*
For a list of all 32 team nominees and to see how they create a positive impact in their communities click here.
SUPER BOWL LEGACY GRANTS
Each year, the NFL seeks to improve the surrounding communities of the Super Bowl host city with the Super Bowl Legacy Grant Program, made possible thanks to an annual $1 million contribution from the NFL Foundation and matched by the Atlanta Host Committee.
This year, the NFL Foundation and Atlanta Super Bowl Host Committee grants were focused on investment in and renovation of John F. Kennedy Park, located in Atlanta's historic Westside neighborhood. This $2.4 million capital improvement project—supported by funding from the NFL Foundation, Atlanta Super Bowl Host Committee and the Arthur M. Blank Family Foundation—will help foster play and healthy lifestyles for students at the nearby Hollis Innovation Academy as well as the Westside community, providing the next generation of youth in Atlanta with a versatile playing field for athletic competition and the surrounding community a safe space for exercise and outdoor activities.
To learn more about the project supported by the Foundation for Super Bowl 53, click here.
DISASTER RELIEF
Following the tragic shooting in Thousand Oaks and aftermath of Hurricane Florence, the NFL Foundation supported disaster relief efforts in both areas:
DISASTER
NFL FOUNDATION ACTIVITY
CONTRIBUTION

Jacksonville Shooting

Contributed

to the National Compassion Fund (Jacksonville-specific fund) to support the victims and families of the shooting that occurred in Jacksonville at the EA Sports tournament.

$200,000

Hurricane Florence

Contributed to the American Red Cross to support immediate relief in impacted areas of North Carolina, South Carolina and Virginia.

Contributed to the Second Harvest Food Bank to support needs throughout North and South Carolina.

$550,000

$450,000

TOTALS
$1,200,000
The NFL Auction also played a key fundraising role when devastating wildfires affected Northern and Southern California. With the help of the Rams, Raiders, Chargers, 49ers and Chiefs, NFL Auction raised $250,000 to support recovery efforts through the sale of game-worn jerseys and sideline apparel from the historic Monday Night Football game between the Chiefs and Rams, as well as memorabilia and unique experiences offered by our California clubs.