Sheila Hamp
On June 23, 2020, Sheila Ford Hamp succeeded her mother, Martha Firestone Ford, as Principal Owner and Chair of the Detroit Lions. From 2014-19, Mrs. Hamp served as one of the team's vice chairs during her mother's ownership.
Mrs. Hamp carries the Ford Family's proud legacy that was first established by her father, William Clay Ford, who passed away on March 9, 2014, after serving as the sole owner of the franchise for 50 seasons (1964-2013). Mr. Ford's ownership grew into a deeply-rooted family tradition that now includes multiple generations of the Ford Family.
At the end of the 2020 season, Mrs. Hamp, with the assistance of President and CEO Rod Wood, Chief Operating Officer Mike Disner and Special Assistant to President/CEO and Chairperson Chris Spielman, laid out a clear vision for the organization. With the goal of establishing the Lions as a workplace built on a collaborative culture, the search for new leadership resulted in the arrival of Brad Holmes and Dan Campbell.
Holmes was named executive vice president and general manager on January 14, 2021 after spending 18 seasons with the Los Angeles Rams (2003-20) in a variety of roles, including most recently director of college scouting. That same week, Campbell, a former tight end with 22 years of NFL experience, including 11 as a coach and 11 as a player, was named the team's new head coach. These key hires, born from Mrs. Hamp's vision for a culture of communication, collaboration and innovation, have helped lay a foundation for success across the Lions organization that will continue to grow heading into the 2022 season.
With a new head coach and general manager solidified, Mrs. Hamp helped elevate the Lions to the national spotlight in her second year as Principal Owner and Chair as she paved the way for two major organizational announcements. At the 2022 NFL Annual Meeting, it was announced that the Lions were selected for the NFL's premier behind-the-scenes television series Hard Knocks, which provides an inside look at Lions Training Camp this through collaboration with NFL Films and HBO. Days later, Detroit was announced as the host city for the 2024 NFL Draft.
"Needless to say, this is a great day for us," Hamp said of the NFL Draft coming to Detroit. "It represents a lot of hard work on the part of the Lions and the part of The Detroit Sports Commission and Mayor Mike Duggan. I think it will be huge for our wonderful city to showcase itself. It's been a city that is sometimes overlooked or disparaged for certain reasons. But we all know better, those of us who are there. All the wonderful things that are happening there. So, we're very excited to show the world what we're all about."
This past spring, Mrs. Hamp and Wood also unveiled a new organizational leadership structure that included the hiring of two new senior positions in Brian Facchini, Chief Communications and Brand Officer, and Lindsay Verstegen, Chief People and Diversity Officer. The revamped leadership team has since set out to begin establishing long-term goals for the Lions that focus on football and organizational excellence, fan engagement, brand reputation and stadium experience.
During her first year as Principal Owner and Chair, Mrs. Hamp created a Culture Task Force that was designed to improve organizational culture through enhanced employee engagement, alignment and openness. The work of the Task Force, which included an employee-wide survey to address areas of improvement, led to Mrs. Hamp establishing various sub-committees that now allow employees to strategize and achieve work solutions together across the Allen Park and Ford Field offices.
Mrs. Hamp's hands-on approach to leading the Lions also extends to the league level. In February 2021, she participated in the NFL's Women's Careers In Football Forum, where she, along with Cleveland Browns Managing and Principal Partner Dee Haslem, led a "From Firsts To The Future" panel discussion with young women about breaking into careers in professional football. She also serves on the NFL's Fan Engagement and Major Events Committee, as well as the NFL Foundation Committee.
At the age of five, Mrs. Hamp, the second of four children, began attending Lions games at Briggs (Tiger) Stadium and Lions Training Camp at Cranbrook School in Bloomfield Hills, Mich. As a teenager, her love of the Lions and knowledge of the game of football would impress many, including then NFL Commissioner Pete Rozelle. Now as Principal Owner and Chair, Mrs. Hamp focuses that love, knowledge and commitment to the team that has been part of her family for decades.
Beyond her involvement with the Lions, Mrs. Hamp and her husband, Steve, are very active in numerous community and charitable organizations. She is on the board of the Purple Rose Theatre Company in Chelsea, Mich. Mrs. Hamp also is a Trustee Emeritus of the Board of The Henry Ford. In addition, she is the Chair of the Board for Detroit Lions Foundation, and serves on the boards for the Edsel and Eleanor Ford House and USA Football.
Mrs. Hamp was a member of the ground-breaking group of students who were in the first class of women to graduate from Yale University where she earned her Bachelor of Arts degree. While at Yale, she played varsity tennis and earned Major Y honors during her college career. Following her graduation from Yale, she earned her Master of Arts degree in teaching and early childhood education from Boston University.
Sports have always been an integral part of Mrs. Hamp's life. In addition to her accomplishments as a college tennis player, she competed as a junior tennis player at the national level and won a Michigan state tennis title at age 17. She also coached youth soccer for more than 10 years in her current hometown of Ann Arbor, where she and her husband, Steve, raised their family.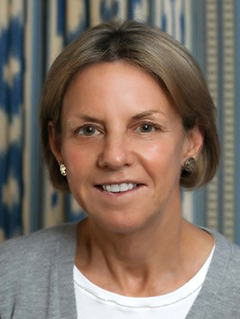 Detroit Lions
Principal Owner and Chair