Health & Safety
USA Football
USA Football reimagines the sport to make it smarter, safer and more fun for the kids who play it. Through training, education and events, USA Football gets everyone on the same page – from parents and players to coaches and commissioners. The organization – football's national governing body and a member of the U.S. Olympic & Paralympic Committee – was endowed in 2002 by the National Football League and the NFL Player's Association. Head to www.usafootball.com to find resources for every role in the game.

The Football Development Model: The Future of Football
In 2018, USA Football began working on the Football Development Model (FDM) to answer challenges in the game today. It opens more paths and outlines a step-by-step roadmap to success through the sport. It gives athletes what they need when they need it to keep things fun and fulfilling. By focusing on the whole person, it makes better players by design. This is football's future.
The FDM is built on six pillars:
Fun & Fulfilling:
Football is a game before it's a sport – it should be fun. Starting with basic skills and personal success keeps it fun from the start. This helps build a love for the game that continues as competition increases.
Whole Person & Multi-Sport Development:
Building on the life-long values and lessons of the sport. Go beyond football skills to teach athletic movements that cross over sports and last for a lifetime in addition to focusing on the mental, emotional and social sides of a person.
Physical Literacy & Skill Development:
Starting with fundamental movements builds a foundation at each stage of an athlete's growth. This allows them to develop at their own pace and level up to more advanced skills effectively.
Coach Education & Training:
Athletes spend countless hours with their coaches. Providing the best resources and training for coaches helps them to create the best athletes.
Multiple Pathways & Entry Points:
From gym class to joining a league, there are a number of ways for an athlete to open the door to football. Game types like flag, Rookie Tackle® and others meet players where they are comfortable.
Participation & Retention:
Teaching in an age-appropriate way builds confidence and enthusiasm. The FDM creates a better football experience by blending education, research and training. This leads people to stay in the game longer.
Learn more at www.usafootball.com/fdm.
First Down
First Down introduces kids and parents to the game of football in a fun, free and friendly format. Kids get active and learn the basics of the sport such as running, jumping, passing and catching. Through hundreds of events across the country, hosted by USA Football and community organizations, kids experience football for the first time. Learn more at www.usafootball.com/firstdown.
FUNdamentals
FUNdamentals introduces 5- to 15-year-olds to football by teaching basic skills in a fun and energetic environment. Current and former NFL players and coaches lead these one-day camps with curriculum and equipment provided by USA Football and the NFL Foundation. Young athletes go through a series of age-appropriate drills to learn passing, catching and running skills in a non-contact setting. These events are typically held in the hometown of the host and spread football on a hyper-local level. In 2019, there were more than 300 camps that reached 45,000 athletes. Learn more at www.usafootball.com/fundamentals.
Protection Tour
Each year, USA Football's Protection Tour makes stops at several NFL facilities, giving kids a chance to get on the same field as their favorite players. Experts from Riddell are on hand to properly fit young athletes' helmets. In addition, athletes go through fun, competitive and educational drills to work on passing, catching, tackling and other skills. Players or mascots from the hosting NFL club often appear to make the events even more memorable. This free, one-day camp guarantees a fun experience for kids whether it's the first time playing or their 100th. Learn more at www.usafootball.com/protectiontour.
Heads Up Football®
Heads Up Football® is a comprehensive program developed by USA Football to advance player safety in the game of football.
Funded in part by the NFL Foundation, Heads Up Football is designed to change the culture around America's favorite sport and enhance player safety at the youth and high school level. This comprehensive solution promotes coaching education, concussion recognition and response, heat preparedness and hydration, sudden cardiac arrest, proper equipment fitting and Heads Up Blocking and Tackling.
USA Football's Heads Up Football® program focuses on eight key areas: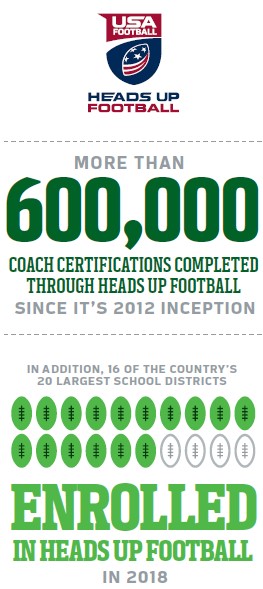 Coaching Education: The sport's only nationally accredited courses with content created from football experts and health professionals. Coaches with valid USA Football certification become eligible for coaching insurance benefits.

Equipment Fitting: Learn how to properly fit helmets and shoulder pads. Improperly fitted equipment can place an athlete at greater risk for injury.

Concussion Recognition and Response: Resources developed by the CDC help coaches and parents become educated on what to look for on the field and encourage attention to concussion symptoms.

Heat Preparedness and Hydration: Heads Up Football® strengthens its commitment to player safety by adding a heat and hydration training curriculum – with assistance from the Korey Stringer Institute at the University of Connecticut. Targeted education for coaches and parents increases the emphasis on prevention, recognition and basic treatment of athletes. Best practices reinforce heat and hydration-related safety at all levels.

Sudden Cardiac Arrest: Provides instruction on how to have plans and procedures in place to quickly react in the case of cardiac events, the No. 1 cause of death for children and teens during exercise.

Heads Up Tackling: USA Football's Heads Up Tackling® is a step-by-step protocol to teach the core principles of the skill and sets a new standard in player safety. The program utilizes five fundamentals through a series of drills to reinforce proper tackling mechanics and teach players how to properly tackle with a focus on reducing helmet contact.

Heads Up Blocking: USA Football's Heads Up Blocking helps coaches teach players how to properly engage with a defender, drive with the legs and maintain the correct body position for effective and safer play.

Player Safety Coach: These individuals are responsible for ensuring their organizations' compliance with core Heads Up Football® health and safety protocols, including coaching certification and conducting safety clinics for coaches, parents and players.
USA Football is building a better, safer game through certified coaching education, health and safety initiatives, equipment grants and changing the way the sport is played at the youth and high school levels. To learn more about all of USA Football's programs, visit: www.usafootball.com.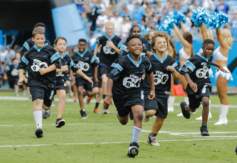 NFL Team Program Grant
Health & Safety
Youth Football
Social Justice
Grants are provided to each of the 32 NFL teams to support the implementation of the league's national initiatives throughout the year in local team markets.
Find Out More