Youth Football
Through our grant programs and partnerships, hundreds of thousands of youth have been given the opportunity to learn the game of football, get physically fit, and stay involved in productive after-school activities with adult mentors. The programs supported by the NFL Foundation also have provided youth football participants with safe and accessible places to play, as well as programs and initiatives that address the importance of proper coaching, health, safety and wellness, academic and life skills development & character education programs.
YOUTH FOOTBALL CAMPS
Each year, the NFL Foundation supports current and former NFL players and coaches who organize and host free, non-contact youth football camps during the summer. In its 22nd year, the program recognizes NFL players and coaches who give back to communities in their hometowns or club markets and offer young athletes the opportunity to play in a healthy and fun environment. As part of summer camp season festivities, more than 450 current players, NFL Legends and coaches hosted free, non-contact youth football camps for more than 80,000 children across the country. Camps were open to boys and girls ages 5-18.
More than 200 recipients also received grants to host a single-day FUNdamentals camp, featuring a USA Football curriculum. FUNdamentals camps are designed to introduce boys and girls to the fun of football and advance their physical wellbeing through the sport's basic skills and movements in an exciting, high-activity format.
USA FOOTBALL
The NFL Foundation champions the development of football at youth and scholastic levels through funding support of USA Football, the sport's national governing body and a member of the U.S. Olympic & Paralympic Committee. USA Football's grant program awarded nearly $1.5 million in resources to benefit young athletes in 2019 including new equipment, uniforms and other supplies. Grants are valued up to $1,000 each and are distributed based on merit, need and a school's or sports organization's commitment to coaching education and best practices. Organizations can apply for a grant at www.usafootball.com/grants.
USA Football reimagines the sport to make it smarter, safer and more fun for the kids who play it. Through training, education and events, USA Football gets everyone on the same page – from parents and players to coaches and commissioners. The organization was endowed in 2002 by the National Football League and the NFL Players' Association. Head to www.usafootball.com to find resources for every role in the game.
FUNdamentals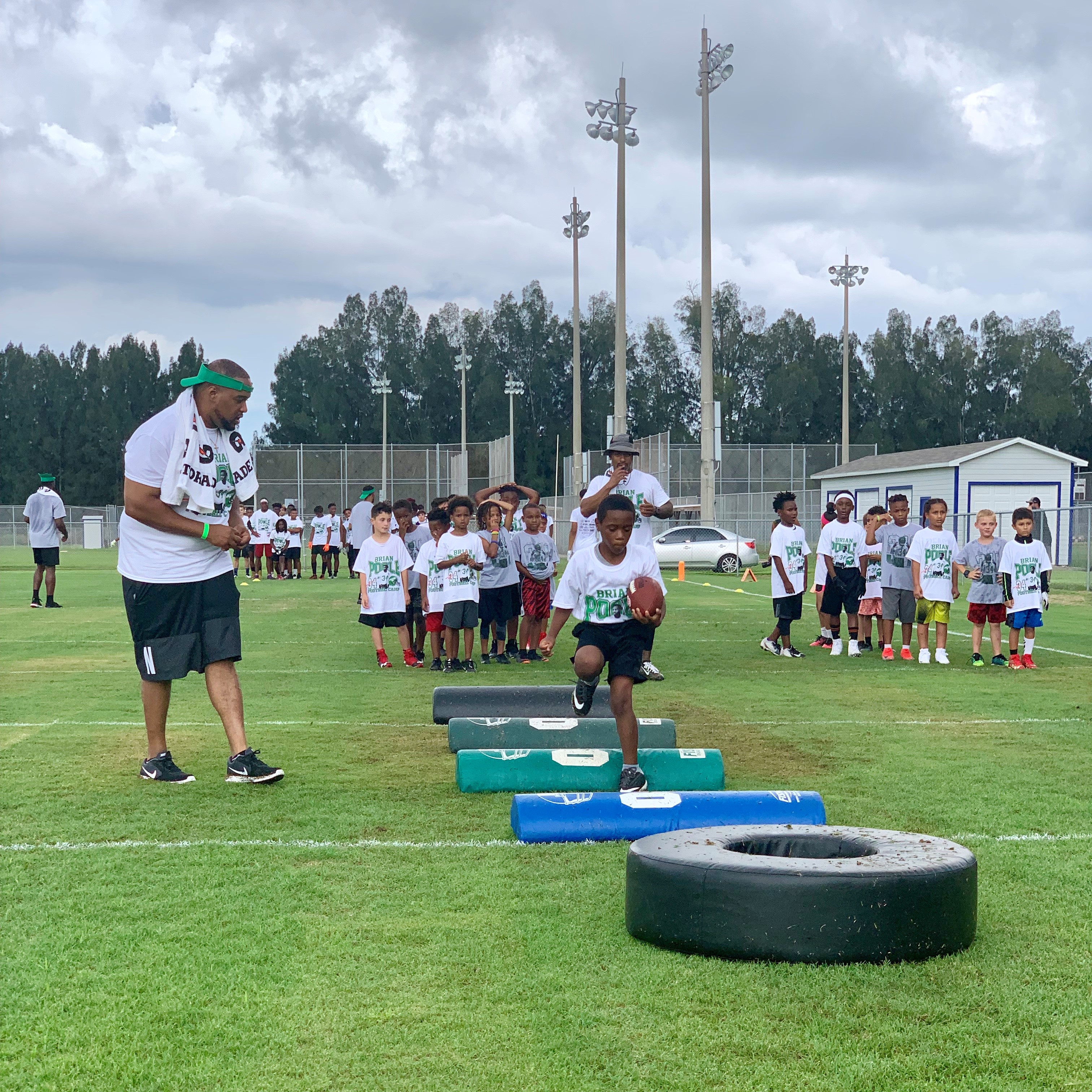 USA Football's FUNdamentals program reaches more than 33,000 children aged 5-15 each year, teaching them the sport's primary skills in a fun, energetic and contact-free way. Clinicians use a series of drills to introduce passing, catching and running.
All skills and drills selected are based on USA Football's Player Progression Development Model, ensuring children learn the game in an age-appropriate way when experiencing the joy and excitement of America's favorite sport.
FUNdamentals instruction is taught by dozens of current and former NFL players during their summer football camps. For more information on FUNdamentals, visit: www.usafootball.com/fun
NFL WAY TO PLAY
The NFL Way to Play shows our commitment to promoting proper playing technique across all levels of football. Through the lens of the best in the game—current players, NFL Legends and head coaches—the initiative highlights proper technique, shares best practices and showcases the NFL Way to Play.
The NFL Way to Play Award expanded in 2019 and recognizes the best examples of playing technique each week of the NFL regular season and playoffs. A distinguished panel of NFL Legends selected the player who positively impacted the game through proper technique (i.e., tackling, blocking, footwork, discipline, vision). The recipient was announced every Thursday during the season on NFL Network's Good Morning Football.
*Each winner received a $2,500 equipment grant through USA Football for the youth or high school football program of the player's choice.
Building off of the positive impact of the NFL Way to Play, the NFL also recognized high school football players for using proper playing technique in partnership with Hudl throughout the 2019 season. The Way to Play High School Award was featured nationally on Saturdays in a Good Morning Football segment.
*The school of each chosen player received a $1,500 equipment grant through USA Football.