Character Education
The NFL Foundation is committed to building and supporting a stronger society and helping individual boys and girls—athletes and non-athletes alike—and entire school communities learn about the importance of developing character and healthy relationships through social and emotional learning.
Through strategic partnerships, the NFL Foundation is advancing initiatives that are interactive, engaging, and provide tangible results. These programs work to ensure that middle and high school students have the education and tools necessary to build moral character, navigate complex decision-making and improve conflict resolution.
InSideOut Initiative
The InSideOut Initiative (ISOI) was co-founded by NFL Legend Joe Ehrmann and Minnesota High School League associate director Jody Redman to help transform the "win-at-all-costs" sports culture to one that defines and promotes sports as a human growth experience and connects students to caring adults in their learning community. Powered by the NFL Foundation, the ISOI catalyzes partnerships with educational leaders, state athletic associations and NFL clubs to redefine the role of interscholastic sports and help intentionally develop the educational, social and emotional well-being of each student-athlete.
Since its inception in 2015, the ISOI has partnered with 3,234 high schools and has impacted more than 85,000 coaches and 2,550,000 student-athletes. Listen to what student-athletes say they want from their sports experience.
Former NFL player Joe Ehrmann and high school coaches from around the country discuss the importance of strong character.
The NFL Foundation is funding statewide implementation of the InSideOut Initiative with InSideOutMap in California, Colorado, Georgia, Indiana, Louisiana, Ohio, Tennessee, Texas and Virginia, with plans for further expansion to school communities in additional states connected to NFL markets. See full 2018 Impact Report here.
Researchers from the Institute to Promote Athlete Health & Wellness (IPAHW) at UNC Greensboro are formally evaluating the ISOI. IPAHW implemented a formative evaluation of the ISOI through an iterative observation and development process that resulted in the conceptualization of: (1) a three-phase initiative informed by Social and Emotional Learning (SEL); (2) a strategic and innovative implementation plan; and (3) individual and organization-level change models rooted in behavioral science. Outcomes.
In Summer 2019, IPAHW began studying the impact of the ISOI by conducting a rigorous evaluation of the three-phase initiative and overall dissemination and implementation in school communities. Outcomes associated with social and emotional competencies, individual-level and organizational-level behavior change, and variability in the implementation process, including Communities of Best Practice (CBP's), will be evaluated. The products of this evaluation will include scholarly, peer-reviewed publications that describe the ISOI's unique contributions to education-based athletics, public health, and prevention science.
NFL/United Way Character Playbook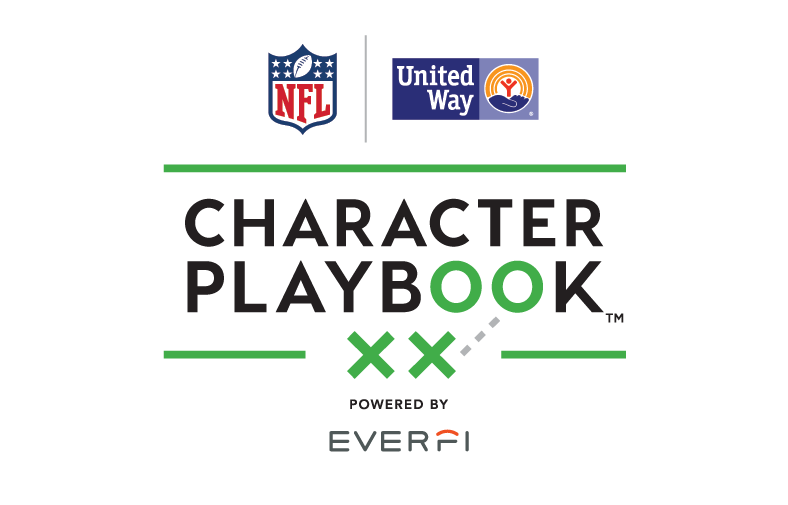 The NFL/United Way Character Playbook program is a digital education program that helps middle school students learn how to cultivate and maintain healthy relationships. The NFL Foundation, along with longtime partner United Way Worldwide and digital learning innovator EVERFI, Inc., created this scalable and evidence-based program which has rolled out in all 32 NFL market communities with NFL clubs and players as well as the United Way since the Spring of 2016. The partnership expanded even further at the beginning of 2019 when the NFL Foundation and United Way Worldwide announced that Character Playbook would be available to any school across the country nationwide. In addition to making Character Playbook available to any school in the U.S. free of charge, the NFL Foundation and United Way are also incorporating a new digital mental health education course into the Character Playbook initiative for the first time in the fall of 2019. EVERFI's Mental Wellness Basics builds on the teachings of Character Playbook to equip students to become powerful advocates for the mental wellness of themselves and their peers.
Character Playbook consists of six interactive modules that support positive character development, social-emotional learning and healthy relationships for students in grades 7-9. To date, Character Playbook has reached more than 475,000 students in more than 5,300 schools. This led to a 44% increase in student understanding of key social-emotional topics based on pre-and post-assessment scores. Schools that teach character education report higher academic performance, improved attendance, reduced violence, fewer disciplinary issues, reduction in substance abuse, and less vandalism.
Character Playbook continues to expand to more schools along with the launch of Character Playbook LIVE – part of a league-wide initiative to engage more students in the important conversation of why character matters. This virtual classroom experience, hosted by NFL clubs and the United Way, allows NFL players to virtually join multiple schools in their classrooms and connect lessons taught in Character Playbook modules to life inside and outside of football. Each year, thousands of more students are being introduced to the topics and themes of Character Playbook because of this virtual offering.
306
The NFL is in its second year providing 306, EVERFI's signature digital education program on African-American history, to high school students. The League supports access to this resource for 175 high schools across Arkansas, Florida, Georgia, Montana, and North Dakota. Sponsorship of the 306 program is part of the NFL's Inspire Change program, the social justice platform.
Sharing stories of African-American accomplishments in the arts, science, sports, and academia supports the NFL's commitment to education and economic advancement by inspiring positive change in communities across the country.
In addition to providing students with access to African-American history, 306 also serves as an important civic education tool, with 84% of students who have engaged in the program saying that they probably or definitely will vote in local, state or federal elections.