Arthur J. Rooney II
Arthur J. Rooney II was named president of the Pittsburgh Steelers in May 2003. Prior to that, Rooney served as the team's vice president and general counsel, and has been a member of its Board of Directors since 1989.
As part of his duties with the Steelers, Rooney was principally responsible for the design, development, and financing plan for Heinz Field, which opened in 2001. In 2009, Rooney directed the successful restructuring of the Steelers' ownership group, which now includes 12 new partners and continues the Rooney family leadership of the NFL's fifth-oldest franchise.
Rooney serves as the Chairman of the NFL Stadium Committee and serves on several other League Committees including the Digital Media Committee, NFL Management Council and the International Committee.
Rooney is a 1978 graduate of the University of Pittsburgh and received his law degree from Duquesne University School of Law in 1982.
He devotes a substantial amount of his time to community activities and is currently serving as Chairman of the Board of United Way of Allegheny County, and on the boards of the Pittsburgh Children's Museum and the Pittsburgh Public Theater.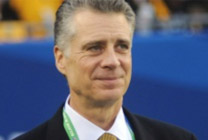 Pittsburgh Steelers
President