Susie Spanos
Susan Lucas Spanos is a fifth-generation Californian with a proud record of service to her community through the many causes she has worked for tirelessly and faithfully throughout her life.
After school she worked as a flight attendant for Western Airlines and the Del Webb Corporation flying on their private plane, where she met her husband Dean. As her young family grew, Susan became an active volunteer for deserving organizations, starting with her sons' schools. She served on the boards of their high schools and also on the Parents Advisory Board at Wake Forest University.
The San Diego Blood Bank benefitted greatly from her support after she joined their governing and foundation board. In particular, she was a founder and has been a dedicated supporter of their cord blood program which collects the blood from umbilical cords and makes a difference in patients' lives. She continues to work tirelessly on the San Diego Chargers Annual Blood Drive and Fashion Show in support of the Blood Bank.
She is on the board of the Chargers Community Foundation and is active in the Chargers Champions program which, together, oversee and provide financial support to youth, education and health programs.
She was named Woman of the Year by the Leukemia Society of San Diego for raising the most money for them. She chaired the San Diego Zoo's annual gala and raised the largest amount at that time. She has given years of service to the San Diego Museum of Art chairing their annual ART ALIVE, an event that attracted a record 17,000 people.
Susan has taken on a leadership role for many deserving charitable organizations, including the Campanile Foundation at San Diego State University, the University of San Diego, and the St. Germain Child Abuse Prevention Foundation. She chaired the Silver Tea for St. Germain. She is an Advisory member of Las Patronas, a leading philanthropic group in San Diego that annually raises and contributes nearly $1 million. For her unceasing service, the Salvation Army honored her as a "Woman of Dedication" at their annual Gala. She went on to co-chair the event in 2016 and raised the largest sum to date. The San Diego Hall of Champions presented her with their most prestigious award: their Community Champions Award.
Susan and her husband Dean have two sons, Alexander (A.G.) and John, and reside in La Jolla. A.G. and his wife Kamri have two sons.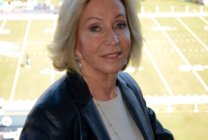 Los Angeles Chargers
Philanthropist